Oral Pathology Workshop: When, Why, and How to Biopsy Oral Lesions
Boston, MA • April 21, 2017 • 9:00 AM - 12:00 PM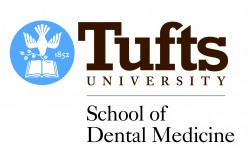 Even the most frequently seen conditions in oral pathology may be diagnostically challenging to clinicians who do not encounter them with regularity. This presentation will help in the identification of both common innocuous and more seldom seen but clinically significant lesions, including atypical presentations that vary from classic textbook pictures.
The hands-on portion that follows is designed to allow general dentists, specialists, residents, and students to feel comfortable performing uncomplicated soft-tissue biopsies under local anesthesia in out-patient settings.
Location/Venue
Tufts University School of Dental Medicine
One Kneeland Street
Boston, MA 02111


Ticket Information
Lodging Information
The hotels listed below are within walking distance of the Tufts University School of Dental Medicine and offer a Tufts rate to program participants. Because rates vary depending on availability, please book your room early.
Courtyard by Marriott
Boston Tremont
275 Tremont Street
Boston, MA 02116
Reservations: 800.321.2211
Phone: 617.426.1400
Fax: 617.482.6730
www.CourtyardBostonTremont.com
The DoubleTree Hotel
821 Washington Street
Boston, MA 02111
Phone: 617.956.7900
Fax: 617.956.7901
www.hiltonfamilyboston.com/downtown
The W Hotel Boston
100 Stuart Street
Boston, MA 02116
Phone: 617.261.8700
Fax: 617.310.6730
www.WHotels.com/boston
Speaker Information
MARK LERMAN, D.M.D.
Associate Professor and Division Director of Oral Pathology, Tufts University School of Dental Medicine; Diplomate, American Board of Oral and Maxillofacial Pathology
Credit Information
Tufts University School of Dental Medicine designates this activity for 3 continuing education credits.
Tufts University School of Dental Medicine is an ADA CERP Recognized Provider. Approval Date12/15-11/19. ADA CERP is a service of the American Dental Association to assist dental professionals in identifying quality providers of continuing dental education. ADA CERP does not approve or endorse individual courses or instructors, nor does it imply acceptance of credit house by boards of dentistry. Concerns or complaints about a CE provider may be directed to the provider or to ADA CERP at ADA.org/goto/cerp.
Cancellation Policy
The Division of Continuing Education reserves the right to end registration when enrollment limit is reached and to cancel, modify, or alter content or faculty for any course if circumstances indicate the need for such a change. If the school finds it necessary to cancel a course, a full refund will be granted. All attempts to contact registrants will be made as soon as possible in the event of a course cancellation. The school will not be held responsible for any losses due to travel arrangements made by the registrant.

In the event of inclement weather (such as a snow emergency) or other extenuating circumstances, the Division of Continuing Education may be forced to cancel a course. If a course has been cancelled, we will contact participants by the phone number and/or email address provided. You may call or email our office on the day of the course if you are uncertain of a course's status.

Refunds

Full tuition refund or credit will be given for cancellations received at least two weeks prior to course date. Refunds or tuition credit will not be issued for participant no-shows.